Joomla!® Extensions, Modules and Plugins
Our Joomla! experts provide the highest quality of Joomla! extensions, modules and plugins for your Joomla! 3.x & 2.5 websites in different languages.
DonÔÇÖt forget to check out the administrator and front-end demo versions of the above Joomla! extensions.
Latest updates
Latest blog entries
Summer Sale 35% OFF on all RSJoomla! Extensions and Templates
The summer is almost over and all you guys have been getting some tan and sand on your feet. Sadly, all good things must come to an end and it is now time to get back to work.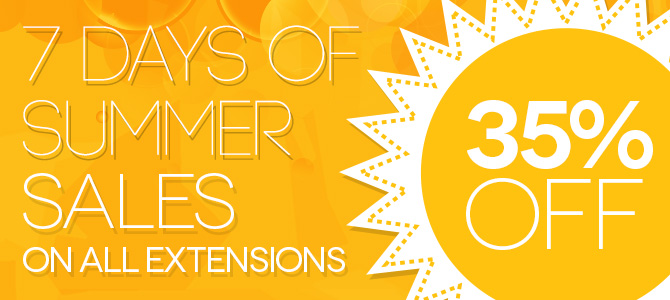 It's very likely that you have upcoming projects or new ideas for your website(s), so we've decided to offer a Summer Sale with a 35% discount on all extensions to get you up and running. Use the following discount coupon when making a purchase*:
RSJOOMLASKY
*Important Notice: the promotion started on the 27th of August 2014 (at the time when this blog entry was posted) and it will end on the 2nd of September 2014, Midnight GMT + 2
RSForm!Pro's Frontend List Module has been improved

The functionality of RSForm!Pro's Frontend List Module has been extended. You can now add, in the module's Advanced tab, the Item ID of a Submissions Directory or Submissions View menu item so that you can link to the menu items' submission details views.
Testimonials

What our customers say about RSForm!Pro
cwadeThis awesome form has reduced the burden of data collection. It is a must have for any site.
Dennis BrilUsed it since it's available and won't use anything else. Use interface is well structured and more features coming with every update. Even a beginner can create a working form like a pro!

What our customers say about RSTickets! Pro
netstepincWe're using RSTicketsPro for a new site, and it's proving to be an excellent choice. It's very stable and well organized. I had a few questions, and submitted support requests with RSJoomla. I received accurate professional help within hours. When buying an extension, it's nice to know you can get what you pay for, and the company will stand behind it.
bizetoolsI integrated the RsTicketsPro plugin into my system and was really impressed with the quality and ease of use. The flexibility is exactly what I needed. I had a few questions and the support was excellent. Well done!! Highly recommended.