Joomla!® Extensions, Modules and Plugins
Our Joomla! experts provide the highest quality of Joomla! extensions, modules and plugins for your Joomla! 3.x & 2.5 websites in different languages.
Don't forget to check out the administrator and front-end demo versions of the above Joomla! extensions.
Latest updates
Latest blog entries
Easter 2014 Promotion
It is already a tradition at RSJoomla! to celebrate holidays and we have been preparing some special gifts for you. This year, the Easter bunny comes with a 30% discount for all our templates and components.
The 30% discount is available for one week , between 18-25 April 2014. This means you can have any extension or template you wish and we are happy to make this possible.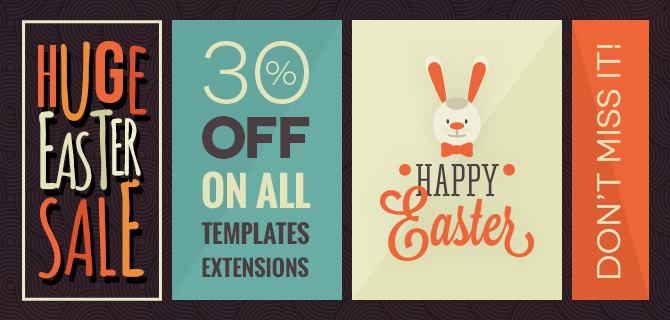 The entire team at RSJoomla! wishes you a Happy Easter! with your friends or family. Happy holidays, dear friends!
RSEvents!Pro's Slider module is now responsive!

RSEvents!Pro's Slider module has just received an important update - the Responsive layout.
Testimonials

What our customers say about RSComments!
RemcoVery fine component, worked immediately, except for a small tiny thing. So I added a service-ticket and they started solving it immediately. Thnx for a fine working component, great service and small price :D.
jimbosun Super Efficient and easy to use. I had a functioning comments form on my site in minutes. Nice discreet styling, as well. I had to call for technical support on one issue, (which was my own problem), and my ticket was answered promptly.

I fully recommend this component to anyone!