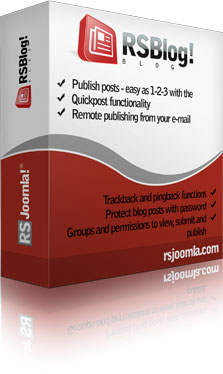 RSBlog! makes Joomla! blogging easy with a set of tools that will enhance your blog experience in Joomla!. Wordpress blogs can also be easily converted to Joomla! using the RSBlog! Wordpress importer - a built-in tool that will convert your Wordpress blog posts into RSBlog! Joomla! posts.
With tools like remote publishing and Twitter and Facebook integration, RSBlog! will help establish and maintain your site's community, resulting in higher traffic rates.
Features that you love in Wordpress and ease of use are now integrated in our Joomla! blogging extension and will make a it an easy and fun experience for beginners and pros alike.
If you use RSBlog!, please post a rating and a review at the Joomla! Extensions Directory

* The final price may differ depending on the actual VAT rate applied to your order.
* The extension(s) will continue to work even after the subscription period will expire. The subscription refers to support & downloads only.
Joomla! Compatibility



Not sure if RSBlog! will work on your server?
Before purchasing, download and install RSTester! for Joomla! 2.5 / 3.x or for Joomla! 1.5 — this extension will check if your server is compatible with our extensions.
Available Language Packs:
We only release our extensions in English. All other language packs are donated by the community. Please note that not all translations may be complete, up to date or correct.
Latest Version:
1.11.14 for Joomla! 2.5 & 3.x
R9 for Joomla! 1.5
Get RSComments! for free
With every purchase of RSBlog! you will receive an equal RSComments! package. We know how important it is for our customers to get in touch with their users and develop a community so that's why we've created this promotion. Get it while it lasts!
Import WordPress blogs and Joomla! Content
Already have a Wordpress blog and thinking of switching to a Joomla! blogging component but affraid of the import process ? Not to worry - RSBlog! comes with a built in importer that specializes in importing your posts and users to your Joomla! database with a few simple clicks.
Intuitive dashboard
Very often you do not have time to browse through your blogging component to create a new post. RSBlog! incorporates a dashboard area that offers all you need to create your quick blog post and a central point to view general blog stats (latest comments, tags and drafts).
Remote publishing via e-mail
Creating and maintaining a blog doesn't need to take much of your time. With RSBlog! remote publishing feature you can create a new blog post with a simple email to a specified address. RSBlog! will grab this email and turn into a proper blog post with all you need: specified categories, tags. No need to worry about spam. RSBlog! will only grab the emails that come from a specified email address.
Twitter and Facebook integrations
The seamless integration with Twitter and Facebook makes it easier to publish posts directly to your Facebook Wall or set your Twitter Status. Simply enable the integrations and your posts will automatically reach your friends and followers.



Get in touch with your readers
Keeping your readers informed is an essential feature for any blogging component. RSBlog! offers email subscriptions, RSS and integrations with the most popular Joomla! commenting system: RSComments!, JComments and JomComments.
Allow your users to submit articles
RSBlog! offers the possibility to create different groups of users and let them manage your articles. You can enable them to accept article submissions from users, moderate new posts, restrict blog access to certain users and choose if they can edit or delete posts.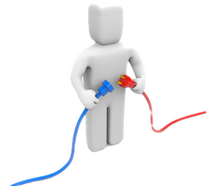 Stay connected with other blogs through pingbacks and trackbacks
Trackbacks and pingbacks are tools used to link to other blogs - in other words, if another website mentions your blog, it will show up in the trackback section along with a small excerpt and vice-versa. WordPress, which powers most of internet blogs, has these features enabled by default - so this is a good way to get some increased exposure from WordPress blogs.
Import posts from third party components or applications
If you are migrating from other components or applications, then you should know, that RSBlog! offers import plugin for the following: Joomla! articles, K2 items, MyBlog and Wordpress. Using these specialized plugins will drastically decrease the time and effort that its allocated when switching from one application to another.
Include RSBlog! posts into the default Joomla! search
By using the RSBlog! - Joomla! search plugin you can include the posts into the search results, thus making your content easily accessible for your site visitors.
JomSocial plugin
There is no question about it - your site should work as a whole not to function as a collection of features. The RSBlog! - JomSocial plugin displays the users posts on its JomSocial profile.
RSBlog! – Joomla!® blog extension and JomSocial plugin. - Screenshots
Important!
Please make sure you are running the latest versions of Joomla! (2.5, 3.x). Our extensions are developed and tested to work only with the latest versions of Joomla!
The minimum requirements to run RSBlog! are:
Joomla! 2.5 or 3.x
PHP 5.x
MySQL 5.x
You must ensure that you have MySQL, XML and zlib functionality enabled within your PHP installation.
Please make sure you have cURL installed and enabled on your server. reCaptcha integration requires fsockopen.
In order to use the Remote Publishing feature, you will also need the IMAP library installed and enabled on your server.
We recommend:
Joomla! 2.5 or 3.x
PHP 5.3
MySQL 5.x
Not sure if RSBlog! will work on your server?
Before purchasing, download an install RSTester! for Joomla! 2.5 / 3.x or for Joomla! 1.5 — this extension will check if your server is compatible with our extensions.
Testimonials
sitemoves
An excellent component. It does what it says. Although it takes some time to discover the possibilities but when you have a question, they have a great en quick support!
PhilR
We were seeking a solution for a client to update one particular module position of the website remotely, without the need for any technical know how, and this component has allowed them to do that, without frantic phone calls to us. They can now update their website at any time of day or...
northernmonk
This is an excellent component with lots of features and our schools are over the moon with the ability to publish to the site just by sending an email. If you are thinking about a blog system then you will find it hard to better this one!!! Keep up the great work and folk should check out the...
Iseibert
I have used RSForm!Pro for several years. I was very happy to see the blog component from them, because I knew it would work well. The setup is fast and the content integration a breeze. I highly recommend RSBlog!. Great work.