Joomla!® Extensions, Modules and Plugins
Our Joomla! experts provide the highest quality of Joomla! extensions, modules and plugins for your Joomla! 3.x & 2.5 websites in different languages.
Don't forget to check out the administrator and front-end demo versions of the above Joomla! extensions.
Gli ultimi aggiornamenti
Latest blog entries
Black Friday / Black Weekend 2014 - 40% OFF on all RSJoomla! Extensions and Templates

This year, we have prepared something special for you: the Black Friday (28th of November) will continue with the Black Weekend (29th-30th of November). *Three days with 40% Discount on all extensions and templates.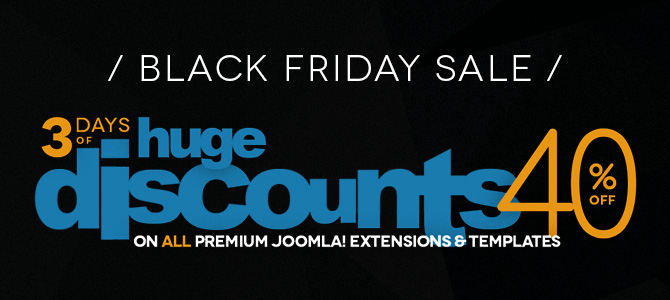 RSFirewall! 2.8.0 - Improved CryptoPHP Detection and Reduced Package Size

The latest version of RSFirewall! comes with a radical shift in how Joomla! hashes are brought into the component, that you can read more about in this post.
Commenti

I nostri clienti dicono di RSTickets! Pro
netstepincStiamo usando RSTicketsPro! per un sito nuovo, e dimostra di essere una scelta eccellente. E' molto stabile e ben organizzata. Ho avuto alcune domande e ho richiesto l'aiuto al support di RSJoomla. Ho ricevuto l'aiuto precise e professionale in poche ore. Al momento dell'acquisto di una estensione, e' bello sapere che otteni quello che paghi, e l'azienda stara' dietro di questo.
bizetoolsHo integrato il plugin RsTicketsPro! nel mio sistema e sono rimasto veramente impresionato dalla qualita' e facilita' d'uso. La flessibilita' e' esattamente quello che mi serviva! Ho avuto alcune domande e il support e' stato eccellente. Bravi! La consiglio a tutti!

I nostri clienti dicono di RSFinder!
JoshlewisSono rimasto sorpreso che non ho trovatto questo prodotto prima. Funziona proprio come lo dice. Per chi vuole una ricerca all'interno della sezione amministrativa, questo e' un must da ottenere. Secondo me, questo dovrebbe essere integrato in Joomla! ;-)
BravoSmartL'installazione di questa estensione e' una delle prime cose che faccio quando lancio un nuovo sito web. Specialmente su siti web con un sacco di contenuti, si puo' risparmiare tanto tempo. Funziona senza problemi! Facile da configurare - una facile soluzione!