Joomla!® Extensions, Modules and Plugins
Our Joomla! experts provide the highest quality of Joomla! extensions, modules and plugins for your Joomla! 3.x & 2.5 websites in different languages.
Don't forget to check out the administrator and front-end demo versions of the above Joomla! extensions.
Gli ultimi aggiornamenti
Latest blog entries
Easter 2014 Promotion
It is already a tradition at RSJoomla! to celebrate holidays and we have been preparing some special gifts for you. This year, the Easter bunny comes with a 30% discount for all our templates and components.
The 30% discount is available for one week , between 18-25 April 2014. This means you can have any extension or template you wish and we are happy to make this possible.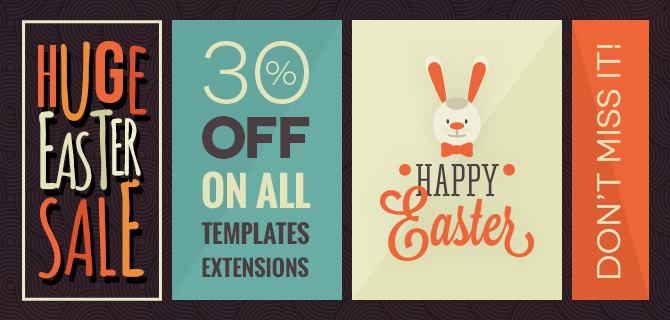 The entire team at RSJoomla! wishes you a Happy Easter! with your friends or family. Happy holidays, dear friends!
RSEvents!Pro's Slider module is now responsive!

RSEvents!Pro's Slider module has just received an important update - the Responsive layout.
Commenti

I nostri clienti dicono di RSFirewall!
bryanSi puo' pensare che non si ha bisogno di questa estensione, ma quando il sito e' hackerato o hai da fare con i spam cambierai l'idea.
E' facile da installare e da configurare e funziona esattamente come pubblicizzato. L'ho inclusa in tutti i miei siti!
jdmorrisFacile da installare e configurare, nonostante la complessita' dell'estensione.
Ho la tranquillita' di sapere che il mio sito e' protetto.
Non eseguirei mai il mio computer senza un software anti-virus, ne' lascierei il mio sito esposto.
Sicuramente il miglior Firewall per Joomla!
Ottimo prezzo di questo mese con il 50% di sconto!
Grazie RSJoomla!

I nostri clienti dicono di RSSeo!
stephencarterVolevo solo dire che sia RSEvents oppure RSSeo funzionano molto bene con il mio sito web. RSSeo mi ha aiutato a scoprire cose che mancavano sul mio sito Joomla! e come risolverli! Batte qualsiasi altra estensione SEF quando si tratta di gestione delle pagine! La consiglio certamente!
siddalljFacile da configurare, spiega chiaramente che cosa devi fare per rendere migliore il tuo meta tag e le descrizioni .

E impressionante che puoi aggiungere i tuoi concorrenti e vedere come si confrontano con te.
Anche il support e' buono, ha risposto alle mie domande in meno di 12 ore.
La consiglio! Verra' utilizzata su tutti i miei siti da ora in poi!