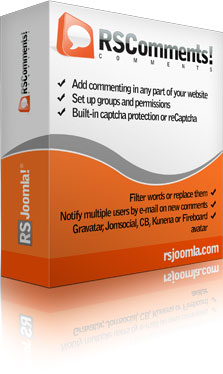 RSComments! complète votre site Joomla! Contrairement aux autres systèmes de gestion de contenu, Joomla! n'a pas d'extension intégré pour les commentaires. Voilà pourquoi RSComments! est facile à configurer, souple et polyvalent, ce qui vous permettra d'activer les commentaires sur votre site en quelques minutes après l'installation.
Alors pourquoi devriez-vous avoir une composante de commentaires installé sur votre site? RSComments! vous permettra essentiellement de prendre contact avec votre site web communautaire, et de recevoir des commentaires sur l'échange des opinions de divers articles, produits ou éléments de contenu différents publiés sur votre site, donc, ce qui rend vos visiteurs de participer davantage et améliore votre visite de retour.
If you use RSComments!, please post a rating and a review at the Joomla! Extensions Directory

* The final price may differ depending on the actual VAT rate applied to your order.
* The extension(s) will continue to work even after the subscription period will expire. The subscription refers to support & downloads only.
Joomla! Compatibility



Not sure if RSComments! will work on your server?
Before purchasing, download and install RSTester! for Joomla! 2.5 / 3.0 or for Joomla! 1.5 — this extension will check if your server is compatible with our extensions.
Available Language Packs:
All language packs are donated by the community. Please note that not all translations may be complete, up to date or correct.
Augmentez le trafic vers votre site en laissant vos visiteurs commenter sur votre contenu
Les commentaires attirent l'attention de plus en plus en recherchant de moteurs donc, un système de commentaires, comme RSComments! est un "must" pour tout site de la communauté. Obtenez le pouls de votre communauté et le trésor de leurs commentaires - il aidera votre site dans le long terme.
Accepte les avatars de Gravatar, CB, JomSocial, Kunena et FireBoard
Ayant un layout agréable et propre est un bon moyen de faire vos visiteur commenter de plus. RSComments! offre les outils et personnalise la présentation par l'importation de son avatar à partir des différents services ou des composants 3-ème partie.
Spam et les outils de protection contre le flood
Personne ne veut les soumissions de spam. Avec RSComments! vous avez quelques méthodes de prévention de celle-ci: deux types de captcha (construit dans et reCaptcha intégration), Akismet et un mécanisme configurable de contrôle flood.
Restrictions basés sur les groupes
Afin de sécuriser et faciliter le flux des commentaires, vous pouvez définir des autorisations différentes en fonction du type d'utilisateur actuel qui fait le commentaire. Vous pouvez activer ou désactiver captcha, de censurer les mots, activer ou désactiver la modération des commentaires et des BBCodes.
Gardez votre auditoire informé
Il est facile de suivre un fil commentant avec RSComments!. Il offre d'abonnement par courriel et les outils RSS. Avec quelques clics l'utilisateur sera capable de voir quand un nouveau commentaire a été fait.
Import comments from other Joomla! commenting systems
Migrate from other application with just a few steps: install and publish the plugin, head to Import area and click the button. This is all to it. Currently you can import comments from the following extensions: JComments, JomCommnets, JoomlaComment and JXComments.
Back-end Latest comments
If you are a site administrator, or a user that has Joomla! back-end access you can easily view the latest comments that were posted on your site.
Front-end latest comments module
You can publish in a module position the latest comments posted on your site.
Joomla!® Comments - Screenshots
Important!
Please make sure you are running the latest versions of Joomla! (1.5, 2.5, 3.0). Our extensions are developed and tested to work only with the latest versions of Joomla!
The minimum requirements to run RSComments! are:
Joomla! 1.5, 2.5 or 3.0
PHP 5.x
MySQL 5.x
Vous devez vous assurer que vous avez MySQL, XML et des fonctionnalités zlib activées dans votre installation de PHP. L'intégration reCaptcha Akismet nécessite fsockopen. Construite en captcha nécessite les bibliothèques GD et FreeType.
We recommend:
Joomla! 2.5 or 3.0
PHP 5.x
MySQL 5.x
Not sure if RSComments! will work on your server?
Before purchasing, download an install RSTester! for Joomla! 2.5 / 3.0 or for Joomla! 1.5 — this extension will check if your server is compatible with our extensions.
Testimonials
munde100
I am using from rsjoomla other 2 products, so when I needed for my website a comment extension I just went with RSComments!. Their components and support are amazing. I definitely recommend!
charles_dupont76
Very good comment system. I needed a small and smart comment system for a project and the RSjoomla team offer a wonderful product. Support is fast , I received answer in 4 hours.
jimbosun
Super Efficient and easy to use. I had a functioning comments form on my site in minutes. Nice discreet styling, as well. I had to call for technical support on one issue, (which was my own problem), and my ticket was answered promptly. I fully recommend this component to anyone!
Remco
Very fine component, worked immediately, except for a small tiny thing. So I added a service-ticket and they started solving it immediately. Thnx for a fine working component, great service and small price :D.