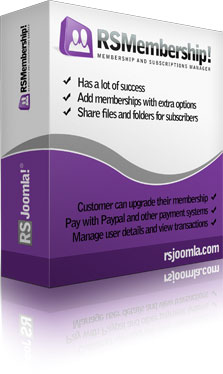 RSMembership! est la solution longtemps attendue pour la gestion des abonnements avec votre site Joomla!
Avec RSMembership! vous avez un contrôle total sur vos abonnés. Notre extension pour Joomla! vous permet de gérer les abonnements , les transactions des clients, et de partager différents fichiers, des dossiers, les contenus et les modules sur la base des abonnements que vous faites. Vous pouvez partager l'accès aux composantes spécifiques et des contenus, comme les articles Joomla!, les sections, les catégories ou toute autre partie de votre site.
If you use RSMembership!, please post a rating and a review at the Joomla! Extensions Directory

* The final price may differ depending on the actual VAT rate applied to your order.
* The extension(s) will continue to work even after the subscription period will expire. The subscription refers to support & downloads only.
Joomla! Compatibility


Not sure if RSMembership! will work on your server?
Before purchasing, download and install RSTester! for Joomla! 2.5 / 3.0 or for Joomla! 1.5 — this extension will check if your server is compatible with our extensions.
Available Language Packs:
All language packs are donated by the community. Please note that not all translations may be complete, up to date or correct.
Latest Version:
R17 for Joomla! 2.5
R17 for Joomla! 1.5
Restreindre le contenu et l'accès aux fichiers
Avec RSMembership! vous pouvez restreindre l'accès à toutes les URL internes dans Joomla! , s'il s'agit d'un article ou appartient à une composante 3rd party. L'extension contient des outils de partage d'articles Joomla! éléments K2, FlexiContent, ZOO et même des positions de module. RSMembership! intègre également un mécanisme qui vous permettra de restreindre un groupe d'URL qui réponde à une certaine condition qui est spécifié via wild-cards. Le partage de fichiers et les dossiers ne peuvent pas être plus facile. RSMembership! propose un dossier simple et un bon outil de sélection des dossiers dans la région de l'administrateur.
Monétisez votre contenu
RSMembership! est construit avec les options de paiement via 2CheckOut, PayPal et Authorize.NET. Les deux derniers processeurs de paiement peut être utilisés avec les paiements récurrents. Ainsi, un abonnement peut être automatiquement renouvelé à son expiration.
Obtenez des rapports sur les abonnements
Comprendrez ce que vos membres veulent par RSMembership! Rapports. Ici vous pouvez générer des abonnés et les transactions d'opérations graphiques et appliquer toutes sortes de filtres comme le temps, le client, l'abonnement ou le prix.
Options supplémentaires configurables d'abonnement
Différents utilisateurs ont des besoins différents. Pourquoi ne pas les laisser choisir exactement ce dont ils ont besoin. Pour chaque abonnement, vous pouvez attribuer des options supplémentaires qui seront composées de contenus partagés (contenus, les fichiers ou modules). Options supplémentaires peuvent être libres ou payées et même assignées à plusieurs abonnements.
L'expiration de l'abonnement fixe et périodique
RSMembership! couvre tous - vous pouvez configurer l'échéance de l'abonnement à une date fixe, après une période de temps spécifiée (de quelques heures à plusieurs années), abonnements d'essai unique (une fois qu'un utilisateur utilise le procès, il ne peut pas le renouveler ou le souscrire de nouveau)
Les rapports des membres et la gestion des transactions
Toutes les transactions d'abonnement peuvent être manuellement ou automatiquement approuvés. Seulement après une opération approuvée l'utilisateur sera capable de l'utiliser.
Payment plugins
Configured memberships can also be sold for a fee. RSMembership! incorporates integrations with the following payment processors: 2CheckOut, PayPal and Authorize.NET. Recurring payments are support for the last two payment gateways.
Share component specific content
To facilitate sharing specific component content, RSMembership! offers specialized plugins for FlexiContent, K2 and ZOO.
Community integration
Components should be able to talk to each other. This is the case for RSMembership! and JomSocial. With the RSMembership! - JomSocial Application plugin, you will be able to display the memberships that a user has subscribed to in the user profile area.
Joomla!® Membership and Subscriptions Manager - Screenshots
Important!
Please make sure you are running the latest versions of Joomla! (1.5, 2.5). Our extensions are developed and tested to work only with the latest versions of Joomla!
The minimum requirements to run RSMembership! are:
Joomla! 1.5, 1.6, 1.7 or 2.5
PHP 5.x
MySQL 4.2
Vous devez vous assurer que vous avez MySQL, XML et des fonctionnalités zlib activées dans votre installation de PHP. Si vous utilisez le plugin RSMembership! PayPal il faudra aussi activer la fonction fsockopen PHP.
We recommend:
Joomla! 1.5, 1.6, 1.7 or 2.5
PHP 5.x
MySQL 5.x
Not sure if RSMembership! will work on your server?
Before purchasing, download an install RSTester! for Joomla! 2.5 / 3.0 or for Joomla! 1.5 — this extension will check if your server is compatible with our extensions.
Testimonials
cjsmiff
Finally one that's easy to use and works like a charm. I had a small issue and raised a support ticket. The response was really really fast and helpful and my issue was resolved! I just needed to upgrade to the latest version. Great component and fantastic support. Thank you!
Ollex
It's easy to use and has lots of features, I actually can't invent one that would be missing for my use as of now. I found a small thing that needed to be included in the next Rev (a check for already existing membership) during user upgrade request, - it was not included in next Rev, but finished...
rigbee
Fantastic support from Andrei at RS Joomla! helped me use RS Membership to set up a payment system for membership purchases/renewals for an association, as well as selling "memberships" to workshops. Client was very happy, and the support tickets were responded to quickly and helpfully, allowing me...
cnaughton
This extension is so easy to use that I had it up and running within an hour. But the best thing about this extension is the support. These people are very responsive and willing to help you with anything you need. They don't just talk the game they actually deliver. I will use all of their...
jo_wheat
This is exactly what I needed. A straight-forward component that allowed me to sell subscriptions to my site's content. Super simple to install. Very easy to configure. Does just what I need, and heaps more stuff that I didn't even think I needed (but may explore now... coupons, add-ons,...