Plugin - Google reCAPTCHA 1.0 (Spam protection)
Important: Support for reCAPTCHA 1.0 will be turned off by Google on March 31, 2018. Please switch to the reCAPTCHA v2 Plugin instead.
ReCAPTCHA is a rather popular anti spam protection. You will be able to set it up just like a regular form component.
Tutorial - Using RSForm!Pro - ReCAPTCHA plugin
The RSForm!Pro - ReCAPTCHA Plugin is a Joomla! plugin that once installed and enabled will add anti-spam functionality to your RSForm!Pro installation. In this tutorial, you will learn how to install the plugin, then we will learn how to use the ReCAPTCHA component.
Technical requirements
In order to make the plugin work, you need:
Joomla! 3.0
Latest revision of RSForm! Pro
fsockopen PHP function enabled
Getting the RSForm!Pro - ReCAPTCHA plugin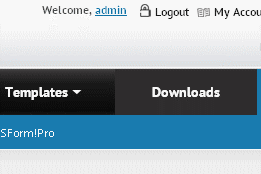 In order to download the RSForm!Pro - ReCAPTCHA plugin you must have at least one active code of RSForm!Pro. Simply go to the My Downloads section of our website(You must be logged-in in order to see the My Downloads section).
In the list of downloads go to the RSForm!Pro section, and download the ReCAPTCHA plugin file.
Installing the plugin
Once you have downloaded the RSForm!Pro Joomla! ReCAPTCHA plugin, you can install it using the default Joomla! installer as shown in the image
The plugin should auto-publish itself, but if that doesn't happen, you can go to Extensions / Plugin Manager and enable it. The plugin is located in the System group and you can identify it by the name of "System - RSForm!Pro ReCaptcha"
Configuring the ReCAPTCHA Plugin
After installing and enabling the plugin, go to Administrator » RSForm!Pro » Configuration. You will notice that a new tab named ReCaptcha appeared. That's where you must set up the plugin as follows:
Public Key: - The public key that you have to get from ReCaptcha
Private Key: - The private key that you have to get from ReCaptcha
Theme: - The theme for the ReCAPTCHA component
Using the ReCAPTCHA form components
Once you have enabled the plugin, go to RSForm!Pro » Manage Forms and edit the form where you want to use the RSForm!Pro - ReCAPTCHA plugin. You will notice on the left side of the screen, just under the common form components, the new ReCAPTCHA plugin form components.
To add ReCAPTCHA to the form, just click on the "reCaptcha" form component. You will have to fill the properties of the component.
---
22 persons found this article helpful.
---