Plugin - Migration from bfForms
The RSform!Pro - Blue Flame Forms migration plugin, will allow you to migrate forms from Blue Flame Forms directly into RSform!Pro with just a few clicks.

Technical requirements
In order to make this plugin work you will need:
Getting the RSForm!Pro - Blue Flame Forms plugin
In order to download the RSForm!Pro - Blue Flame Forms Plugin you must have am active RSform!Pro subscription. Simply go to the Downloads section of our website (You must be logged-in in order to see the My Downloads section). In the list of downloads go to the RSForm!Pro section, then download the Blue Flame Forms plugin for Joomla! 1.5 or for 2.5 (depending on your scenario).
Installing the plugin
Once you have downloaded the RSForm!Pro - Blue Flame Forms Plugin, you can install it using the default Joomla! installer as shown in the image.

The RSForm!Pro - Blue Flame Forms Plugin should auto-publish itself, but if that doesn't happen, you can go to Extensions / Plugin Manager and enable it. The plugin is located in the System group and you can identify it by the name of "System - RSForm! Pro BfForms Migration".
Migrate forms
Once you have installed and enabled the plugin, go to Components > RSform!Pro > Configuration > bfForms Migration tab.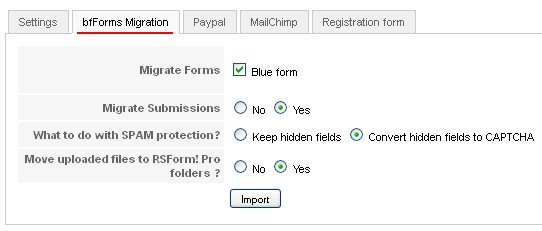 Migrate forms: A list of the current forms that can be imported
Migrate Submissions: No / Yes
What to do with SPAM protection ?: Keep hidden fields / Convert hidden fields to CAPTCHA
Move uploaded files to RSForm! Pro folders ? No / Yes. If set to "yes", the uploaded files will be moved to components/com_rsform/uploads
You Should Also Read