The RSJoomla! team is preparing to delight you with its first Joomla! template, RSNews!: a clean, modern and highly configurable template, powered by the RSTemplate! framework.
Right now our developers are performing the final tests and adjustments to be sure that everything goes smoothly when launching RSNews!
Here's a sneak preview of our upcoming template
1. 960 grid based template powered by the RSTemplate framework
The RSTemplate framework comes with a built-in 960 grid system, which provides a high level of flexibility and full control over the site appearance and layout: a wide range of configurable module positions (up to 37 predefined positions), adjustable template columns width, each column with 10px margin, customizable themes and much more.
Basically, you will be able to set in no time a stylish, clean and modern template without any knowledge of CSS/HTML code.
2. Front-end editing
The front-end interface surprises through flexibility and easy of use: changing the template theme via the control panel is intuitive and user-friendly, the existing options allowing you to customize the site elements as the color schemes, fonts, header, content and footer as well. The key feature is the front-end module editing for logged in users.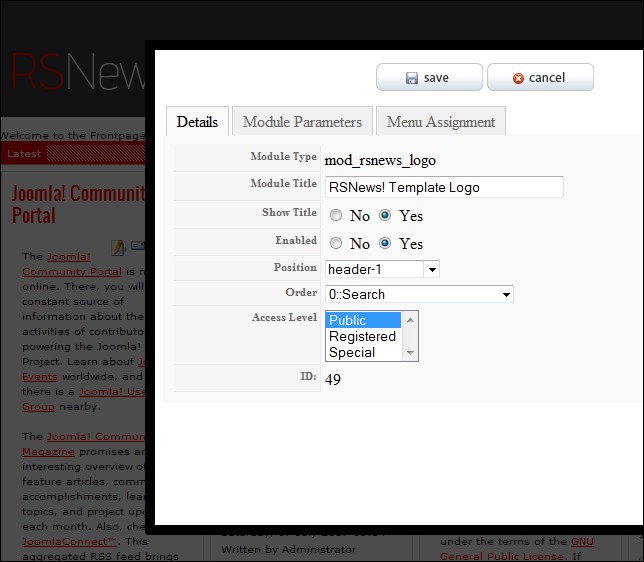 3. Built-in sliders
Setting up a stylish slideshow, with spectacular effects and transitions is a breeze.
Whether you'll be using the big slider or the carousel type, you will have a broad range of parameters to choose from.