Dashboard
The Dashboard tab is shown as the Main Screen of RSBlog!. The screen also allows you to see the Blog Stats, Recent Drafts and also to quickly add a post to your blog.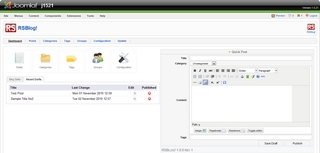 The following Stats are visible in the Dashboard:
Posts: The number of posts in your blog;
Categories: The number of categories in your blog;
Tags: The number of tags from the Tag Cloud;
Tag Cloud: The tags that are in the tag cloud;
Sharing: Send pingbacks / Post to Twitter / Post to Facebook; You can configure Facebook and Twitter autopublishing in the RSBlog! Configuration Panel and you can read about pingbacks here;
In the Recent Drafts tab you can see the posts that are still saved as drafts along with date of the last modification of the post. You can edit the posts from there or publish them directly in the blog.
You can also make a Quick Post in an existing category from your blog. The post can be saved as a draft and opened later from the Recent Drafts tab for edit.