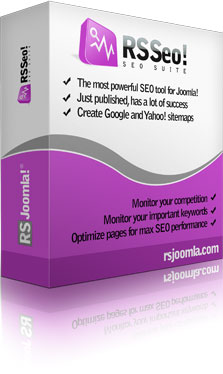 Nous avons tous entendu parler de Search Engine Optimization, mais pour optimiser notre site sous une forme que les gens peuvent nous trouver plus rapidement par les moteurs de recherche est une tâche assez compliquée. Tout autour du Web, les CMS sont utilisés pour construire des sites rapidement et facilement, mais pourtant se perd de la performance SEO du site-ce qui est aussi le cas pour Joomla!. Nous avons appris de notre propre expérience et ainsi nous avons crée une suite complète d'outils SEO tous intégrés dans un seul paquet: RSSeo!.
If you use RSSeo!, please post a rating and a review at the Joomla! Extensions Directory

* The final price may differ depending on the actual VAT rate applied to your order.
* The extension(s) will continue to work even after the subscription period will expire. The subscription refers to support & downloads only.
Joomla! Compatibility



Not sure if RSSeo! will work on your server?
Before purchasing, download and install RSTester! for Joomla! 2.5 / 3.0 or for Joomla! 1.5 — this extension will check if your server is compatible with our extensions.
Available Language Packs:
All language packs are donated by the community. Please note that not all translations may be complete, up to date or correct.
Surveillez votre position de Google pour les mots-clés qui sont importants pour votre business
Vous pouvez voir où se trouve votre site avec les mots clés qui sont pertinents pour votre entreprise ou le contenu de votre site en quelques clics. Vous pouvez structurer vos mots-clés basés sur l'importance attribuée et vous pouvez créer des remplacements de contenu pour les mettre en évidence, ou pour les intégrer au site spécifique.
Suivez les instructions simples pour optimiser chaque page et la rendre SEO parfaite
Une fois qu'une page a été analysée et indexée par RSSeo!, vous pouvez suivre une série de recommandations qui vous aideront à répondre aux exigences SEO imposées par les moteurs de recherche. Plusieurs facteurs clés sont pris en considération tel que la SEF, meta tag, titres, images et les calculs de densité des mots clés.
Surveillez et comparez les performances de vos concurrents SEO contre le vôtre
En utilisant l'intégration RSSeo compete.com vous pouvez facilement voir quelle est votre position SEO dans les confrontations avec vos concurrents. La zone SEO Performance vous permet de saisir une vue générale de votre site parmi d'autres. Ici vous pouvez simplement ajouter vos concurrents et un scan(une analyse)rapide sera fait pour recueillir des informations utiles.
Générez des sitemaps HTML et XML
Alors que les sitemaps HTML sont facultatives et sont généralement utilisés pour offrir une carte globale de votre site, les sitemaps XML sont un ''must'' pour améliorer la visibilité de votre site pour les moteurs de recherche. RSSeo! génère automatiquement deux types de sitemaps XML: une pour l' usage général l'autre spécialisée pour Google.
Gérez les méta-données
La gestion des méta-données pour un site CMS comme Joomla! peut être un processus laborieux. Avec RSSeo! vous pouvez centraliser la configuration des méta-données en un seul lieu - la zone Pages.
RSSeo! - SEO Suite for Joomla!® - Screenshots
Important!
Please make sure you are running the latest versions of Joomla! (1.5, 2.5, 3.0). Our extensions are developed and tested to work only with the latest versions of Joomla!
The minimum requirements to run RSSeo! are:
Joomla! 1.5, 1.6, 1.7, 2.5 or 3.x
PHP 5.2
MySQL 5.x
Vous devez vous assurer que vous avez MySQL, XML et des fonctionnalités zlib activées dans votre installation de PHP. Les extensions/fonctions Apache : cURL, fsockopen, fopen, file_get_contents sont nécessaires. S'il vous plaît assurez-vous que votre hébergeur autorise les connexions de loopback - RSSeo! utilise les fonctions ci-dessus pour vous connecter à votre site.
We recommend:
Joomla! 1.5, 1.6, 1.7, 2.5 or 3.x
PHP 5.2 or higher
MySQL 5.x
Not sure if RSSeo! will work on your server?
Before purchasing, download an install RSTester! for Joomla! 2.5 / 3.0 or for Joomla! 1.5 — this extension will check if your server is compatible with our extensions.
Testimonials
rizzoid
We've been looking for something like this for almost three years. Having built over 100 Joomla! sites, we've always avoided SEO and now we don't have to. This compliments our new copy writing services perfectly.
Deacil
Seems like a little dramatic. But the component is great. This really helped me with a site I was having a ton of problems with for SEO. It identified several areas I needed to change and also the Sitemap feature is awesome.
rossi_andrea
First of all i would like to say that I have tested a lot of Joomla SEO tools... but none of them had everything that you need to properly manage the SEO data for your site until i tested RSSeo!. Simple and functional. Thumbs up for the RS team!
siddallj
Easy to setup, clearly explains what you need to do get your meta tags and descriptions better. Awesome that you can add your competitors and see how they compare to you. Support is good too, answered my questions in less than 12 hours. Highly recommended! Will be using it on all my sites from...
stephencarter
Just wanted to say that both RSEvents and RSSeo work very well with my website. RSSeo has helped me find out things that were lacking seo wise on my Joomla! website and how to solve them. It beats any other SEF extension when it comes to page management. Definitely recommend.